Bio
Our Name
Tuatha is variously translated at the people, the children, or the tribe. It is most notable in the Tuatha dé Danaan, the people of the Goddess Dana, an early tribe in Ireland that have become the faeries in Celtic legend. We have borrowed musical ideas from many tribes the world over, and we are proud to be the people.
Tuatha is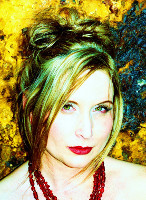 T
Electric Violin, Vocals, and Percussion.
T has been playing violin since the age of 10, and has been influenced by Middle Eastern, Indian, Gypsy, funk, and fusion electronica music. She has played classical and folk, but much prefers the creative expression offered when making new complex musical tapestries with her band-mates in Tuatha. And just to mix it up, she adds etherial vocals and flutes to the creation.
---
Ek'Balam
Electric Guitar, Acoustic Guitar, Guitar Synthesizer, Vocals.
Buying his first electric guitar at 9 with his savings, Ek'Balam truly started his love affair with the guitar. He has explored a wide variety of playing styles and music genres, from classical to jazz fusion. Studying under jazz guitarist Ken Navarro, he developed an understanding of music composition, playing styles and techniques. Despite his love for music and ravenous appetite for collecting and listening to it (even in his sleep), his guitars gathered dust for too many years. In recent years, his lust for playing has (re)possessed his soul. Dusting off his playmates, he again has let his fingers cascade over their strings to elicit the music that lies there waiting to be heard. Ek'Balam brings a passion for flamenco, gypsy, latin, classical, and gothic rock music to Tuatha.
---
Logran
Dounouba, Electronic Hand Drum, Doumbek, Riqq, Tar, Percussion.
Having absorbed structure and technique from many master hand drummers (including Abdoul Doumbia, Souhail Kaspar, Judy Piazza), Logran lays down African and Middle-Eastern inspired rhythms under Tuatha's kaleidoscope of fusion melodies. These traditional beats connect the band's music to tribal roots that run deep throughout human history.
---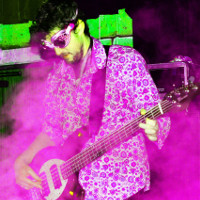 Cerulean
Electric Basses.
Don't let his clean-cut looks fool you. Cerulean's bass playing comes from a tormented yet beautifully psychedelic space. Influenced by progressive and acid rock, Cerulean began playing bass at age 16 and has explored all genres from funk, metal, classical and power pop. Using music as a vessel to connect our spiritual and human experiences, Cerulean adds a solid bottom end to the Tuatha sound.
---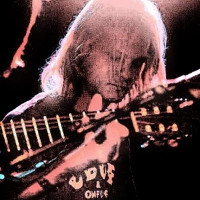 Mateo
Drums.
Born and raised at high altitude, in the land of the Dreamtime, mateo began drumming for the coyote and the venado at a tender young age. A move to the city later in life taught him about the power of high amplitude sound, and he now spends his days invoking the electrical gods to bring the healing energies of music to the masses.